Outdoor Storage Shed Kit-Perfect to Store Patio Furniture
Sale price
£179.99
Regular price
Tax included.
Features:

RESIN CONSTRUCTION: Made from polypropylene resin plastic & steel reinforced to ensure durability - will not peel, rot or rust & never needs painting.

DURABLE: Weather-resistant, waterproof and UV protected - will not peel, rot or rust.

LIGHT & AIRY: Skylight to let in natural light & vented for air circulation.

VERSATILE: Use as a storage shed for a push lawn mower, bike storage, yard tools, garden tools, and patio furniture.
Specifications:
Size: 3x5ft; 4x6ft; 4x8ft; 6x8ft
Material: Metal
Door Size:

6ft x 8ft: 94 * 154cm

4ft*6ft & 4ft*8ft: 72*154cm
Expand your outdoor storage possibilities with this space-saving shed. Its compact size makes it the perfect choice for those with small yards, yet the interior of The Factor Shed is surprisingly roomy. Store your gardening tools, grilling accessories, pool toys, patio furniture, lawnmower and other household items with ease.
Notice: Only 3x5ft does not hava the foundation, others all need a foundation! It shows below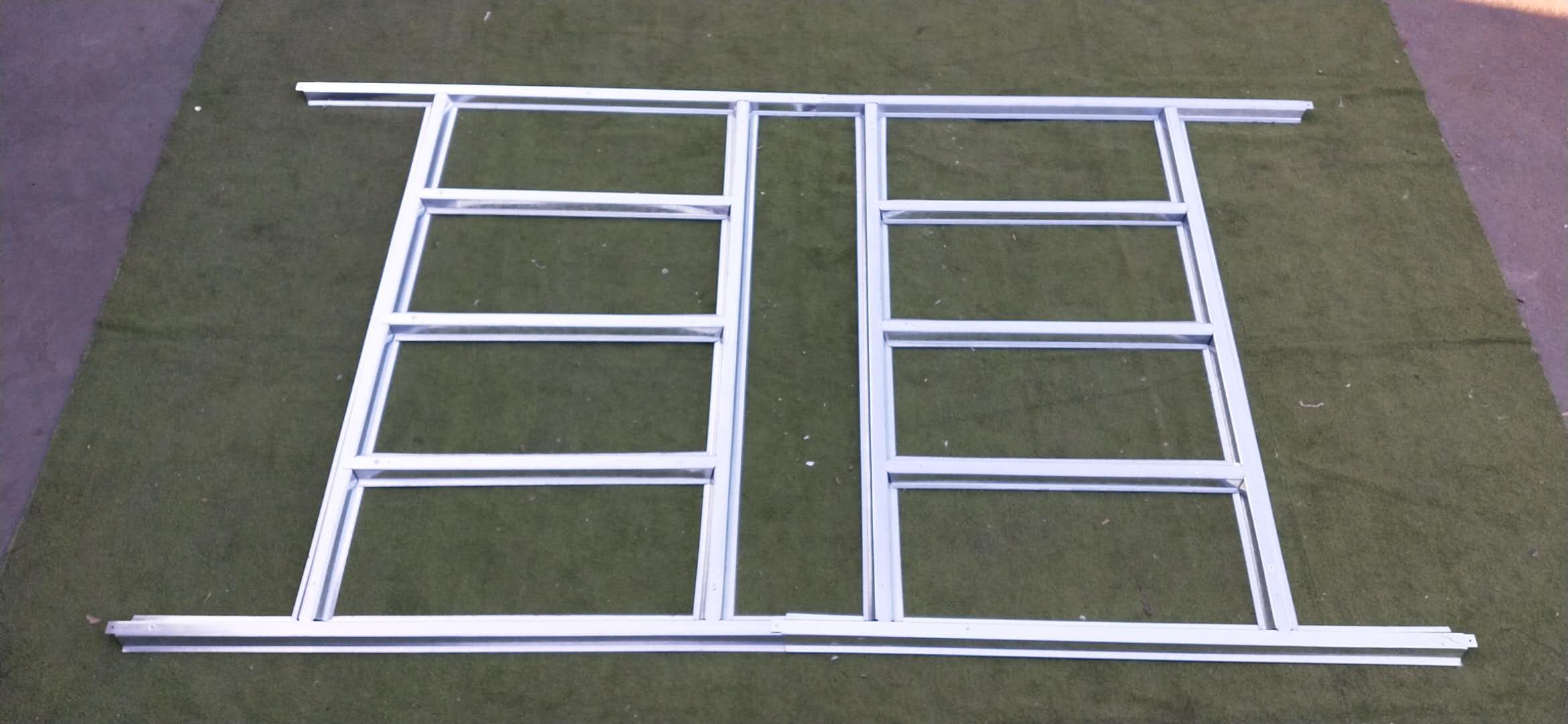 Customer Reviews
I recommend this product
2 days. Lots of figuring out. Some injuries.
I purchased a 6x8 shed from The Outerior. It arrived in due time, oddly enough while i was at work and i came home to find three flatpack boxes outside my front door. Luckily due to their weight, if anyone did plan on stealing them they would likely to have thought better of it. The shed itself is good, and presents a design that gives a lot of usable space. The instructions however grossly underestimated the assembly time. The instructions say 2-3 hours for two people. I can only assume that this estimate was put together by someone who builds these everyday, or someone who has the aid of a time machine. With the aid of my neighbour it took us nigh on two days to assemble. This was primarily due to the instructions being somewhat ambiguous, and the challenge primarily around being more of a "figuring out" exercise. I'll add also that we are both graduates, and technically minded and undergo problem solving as part of a business venture together. Still, the ambiguous instructions presented some difficulty. For those looking to purchase - we would advise perhaps working backwards through the instructions. If you plan on laying out all of your materials and parts before you begin, you will need a considerable amount of space. The pieces themselves contain many sharp edges - would definitely advise either getting shares in Elastoplast and / or superglue and having a first aider on hand, or having some tough non slashable armoured gloves on hand. On the plus side, they were mostly all labelled, so there was minimal process of elimination. Hope this helps...
Liked everything about it
Easy to put together, perfect for what we want.
Large enough to store garden tools and lawn mower. Easy to *****.
Easy to assemble and so far very sturdy. it is bigger than I expected. So far so good.
I loved this so much i bought another one. Very easy to assemble. Alot bigger than i expected and not at all **** to look at either which is a bonus. Fab buy
Secure, sturdy, spacious and easy to assemble storage unit. Would recommend to anyone looking for a reasonably priced storage facility.
Easy to assemble. Very weatherproof. Very ppleased with it.
Very pleased with this storage container. Would definitely buy again.
Bought to store garden furniture cushions , tool box and folding bike. Assembly was easy. It has managed to successfully keep everything dry for the last few months during our very rainy weather so very pleased with product.